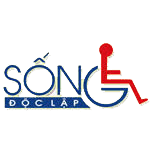 Hanoi Independent Living Center (HILC) announced their involvement in the "Research on the Accessibility of Elections for People with Disabilities in Vietnam". This is a one-year project funded by the USAID with the technical support from AGENDA (General Election Network for Disability Access).
This announcement was made on 14 June 2012 on a public gathering hosted by the HILC. Several key partners attended the gathering; among them were Khuat Thu Hong Ph.D., an expert from the Institute for Social Development Studies (ISDS), and Ms. Tieu Minh Huong, a lecturer from the University of Labor and Social Affairs. Also present were reporters from the People newspaper, Sponsor magazine, Cultural Newspaper, New Hanoi Newspaper, and The Voice of Vietnam radio channel.
Ms. Hong Ha, the director of HILC, gave a brief introduction about HILC and the research they will be working on. She explains that disability issue is not yet the main focus of state's policies. Ms. Ha points to the fact that Vietnam still does not have a disabled representative at the National Assembly. She hopes this research will help to raise awareness on disability issues and therefore will be able to bring about real changes into the policy making process and its implementation, especially in the arena of electoral rights for persons with disability. Data collected and recorded by the research can be used by policy makers to better understand disabilities issues and, therefore, enable them to devise policies to promote and support the full participation of persons with disabilities in the society.
On the meeting, participants shared ideas and suggestions regarding the best ways to conduct the research. They also discussed possible challenges and difficulties and how to overcome them.