Category:
News
News related to the inclusion of persons with disabilities in elections and other political processes, such as research, technological advancements, and inclusive efforts for upcoming elections.
December 19, 2012
Partisipasi politik penyandang disabilitas dalam pemilu diangkat di hari kedua konferensi. Peserta berdiskusi bagaimana mengintegrasikan ide tentang inklusi disabilitas ke dalam komunitas dan sistem ASEAN.
Dalam sesi utama, Penasihat Senior dari Kementrian Sosial Indonesia, Makmur Sunusi, menekankan pentingnya meningkatkan kesadaran. Dia menyatakan bahwa partisipasi politik jarang dibahas di komunitas ASEAN…
November 26, 2012
November 10-11 in Nusa Dua, Bali, AGENDA held the Second Regional Dialogue on Access to Elections for Persons with Disabilities, bearing the theme "Strengthening Democracy, Removing Barriers: Toward Full Participation of Persons With Disabilities in Elections."
The two-day conference brought together hundreds of participants, including representatives from disabled persons organizations;…
November 6, 2012
The United Nations Convention on Rights of Persons with Disabilities (CRPD), commonly referred to as "the Disability Convention", is a unique human rights instrument that serves as both a development tool and a human rights instrument. Also, it is a legally binding policy instrument which is cross-disability and cross sector. The purpose of…
November 3, 2012
On 17-18 October 2012, AGENDA organized a tryout for the training module on accessible election that is intended to train Election Management Bodies officers in Southeast Asia countries. The purpose of the tryout is to test whether the training package is already suitable for the targeted audience. The event took place in Cisarua,…
September 27, 2012
By: Dipo Djungdjungan Summa
On Tuesday, 19 September 2012, the AGENDA team gave a one-hour presentation at a workshop organized by GIZ (the German Agency for International Cooperation) for journalists from Southeast Asia. The workshop was attended by journalist from Indonesia, Brunei, Vietnam, Myanmar, Timor Leste and Vietnam. AGENDA was…
September 25, 2012
Phnom Penh, Cambodia. On 10 August, 2012 the Cambodia National Assembly has agreed to ratify the Convention on the Rights of Persons with Disabilities (CRPD) and its Optional Protocol. The Cambodian government had signed the Convention since 1 October 2007. Many disabled people's organizations in Cambodia had encouraged the government to ratify the…
August 30, 2012
On 13 August 2012, Christian Dirk Donn, IFES AGENDA Program Manager, and Heppy Sebayang, PPUA PENCA AGENDA Program manager, visited Bangkok to give a presentation on AGENDA's projects to the new batch of students of Institute of Disability and Public Policy (IDPP). The institute is a network of university and outreach partners focused…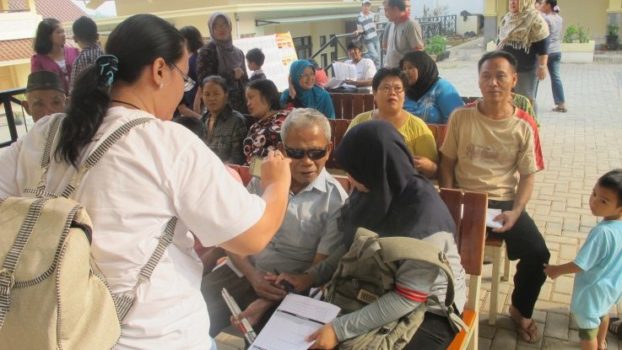 August 10, 2012
By: Dipo Djungdjungan Summa.
On July 11 2012, AGENDA conducted election monitoring during the Jakarta gubernatorial election. This was the sixth mission AGENDA has organized, following similar missions in four districts in Indonesia and in Cambodia during the commune election.
During this monitoring, 70 observers were deployed…
August 8, 2012
Christian Dirk Donn, IFES-AGENDA Project Manager, visited the Philippines for five days to meet with several DPOs, the Philippine Election Commission, student networks and other governmental agencies, working in the field of disability rights or elections. Many organizations expressed their appreciation for what AGENDA has been doing in the region as well as…