Category:
News
News related to the inclusion of persons with disabilities in elections and other political processes, such as research, technological advancements, and inclusive efforts for upcoming elections.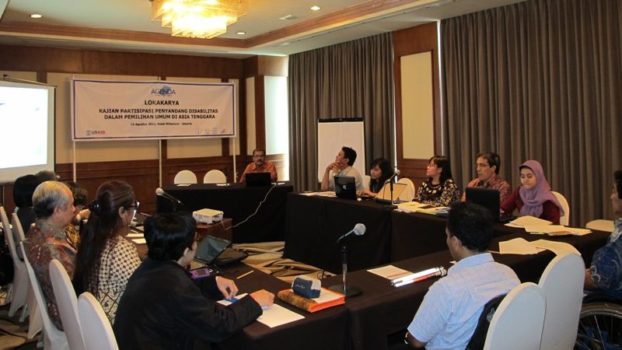 January 4, 2012
By: Riri Rafiani, PPUA Penca
Twenty-four participants from a number of organizations that concerned themselves with election and disability issues gathered at Hotel Millenium, Jakarta, on Monday, August 15, 2011, for a workshop titled Study of Participation of Persons with Disabilities in Elections in South-east Asia. Among the participants were…
January 3, 2012
On October 22, 2011 a regional election for the post of governor was held in Banten Province, including in the South Tangerang regency. This was the second election in the relatively new province since its establishment in 2000. The first was held in 2006.
The day also marked AGENDA's third…
January 3, 2012
By: Riri Rafiani, PPUA Penca
On September 25, 2011, AGENDA conducted its first electoral monitoring at the regional election in Yogyakarta. The purpose of this monitoring is to evaluate the accessibility of voting process and to find out whether disabled voters are content with the whole process of election.
Oleh: Riri Rafiani, PPUA Penca
For their second electoral monitoring, the AGENDA team set out to Mamuju, the capital city of West Sulawesi Province. This region saw its second provincial election on asunny day on October 10, 2011.
Similar methods used in the Yogyakarta election monitoring were…