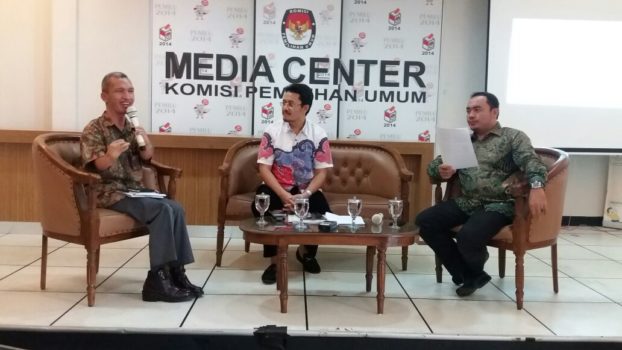 February 28, 2017
On February 24, media discussion on 'Pilkada 2017 and Participation of Voters with Disabilities' at National Election Commission (KPU)'smedia center. Speakers at the discussion were Ferry Kurnia Rizkiyansyah, Commissioner of KPU, M Afifuddin, People's Voter Education Network (JPPR) and Gufroni S, Indonesian Disabled People Association (PPDI). In the discussion, Ferry mentioned that participation…
February 24, 2017
On February 21st, 2017 AGENDA organized a discussion with the theme 'Pilkada Jakarta 2017: Lesson Learned and Turnout Voters with Disabilities' at Pacific Place 3rd Floor @america. There were 3 speakers at the discussion Betty Epsilon Idroos – Provincial KPU of Jakarta, Achmad Fachruddin – Provincial Supervisory Body of Jakarta and Muhammad Zaid…
February 23, 2017
On Feb 14, AGENDA Disability Rights Advisor became one of the resource person at 'Selamat Pagi Indonesia' (Good Morning Indonesia ) talk shOw in METRO TV, a private nationwide television network in Indonesia. The theme of the talk show was 'Citizen's enthusiasm on 2017 concurrent elections'. AGENDA Disability Rights Advisor discussed in the…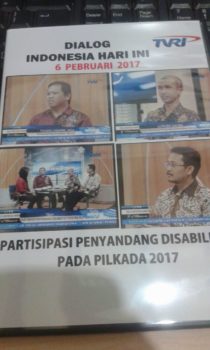 February 23, 2017
On Feb 6, AGENDA Disability Rights Advisor became one of the speakers at the TV Talk show at the National Television of Indonesia (TVRI) Indonesia today program at 2 – 2.30 PM. The topic was 'We also want to vote". The talk show discussed about participation of voters with disabilities in regional head…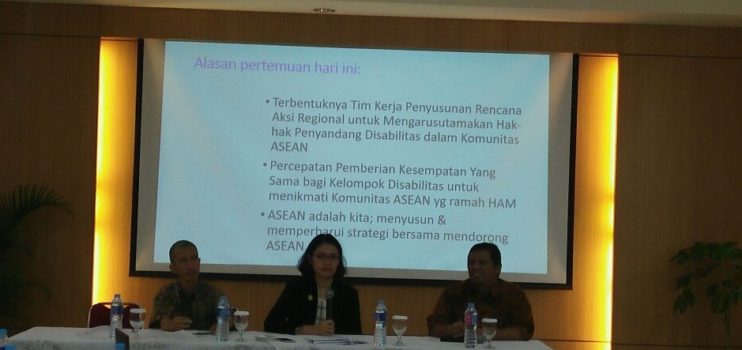 February 21, 2017
On Feb 2 and 3, Dr. Dinna Wisnu, Indonesian Representative to ASEAN Intergovernmental Commission on Human Rights (AICHR) and General Election Network for Disability Access (AGENDA) organized dialogue meetings with representatives from Government of Indonesia and Disabled People's Organizations (DPOs). These dialogues aim to inform all stakeholders about the results from the first…
February 6, 2017
On Jan 31, AGENDA facilitated the socialization of the Accessible Election to voters with disabilities organized by the Provincial KPU of Banten. The activity was the last activity of the series election related activities involving person with disabilities prior to 2017 Banten Gubernatorial Election.
January 26, 2017
On January 16, the General Election Commission of Indonesia (Komisi Pemilihan Umum/KPU RI) issued two circular letters to the General Election Commission at the Provincial and District level related to the Media Competition activity which is organized by the General Election Network for Disability Access (AGENDA) in collaboration with KPU RI and the…
October 26, 2016
Please attend an event "Let's make Jakarta's 2017 Gubernatorial Election more Disability-Inclusive!" @America, Pacific Place Jakarta, on 2 November 2016 at 4 - 5.30 pm. Kindly please share this information to your colleagues. Its a FREE event for ALL!
September 30, 2016
On 23 September, the General Election Network for Disability Access (AGENDA) launched its "Journalist Competition on Accessible Elections", a six-month journalism competition that supports rights-based reporting on disability access in Indonesia's 2017 regional head elections. AGENDA, in collaboration with the Indonesian General Election Commission (KPU RI) and the Indonesian Press Council, opened the…