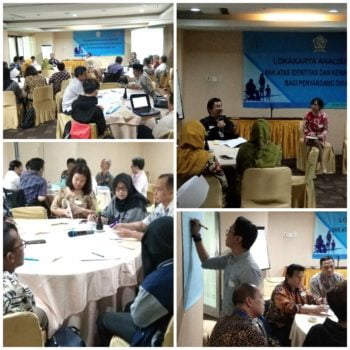 May 16, 2019
PPDI organized a workshop on May 16 in Jakarta on the Legal Identity and Citizenship Rights of Persons with Disabilities in Indonesia. The workshop was attended by representatives from 15 DPOs and six government agencies, including the Ministry of Home Affairs, the Ministry of Social Affairs, the National Development and Planning Agency (Bappenas),…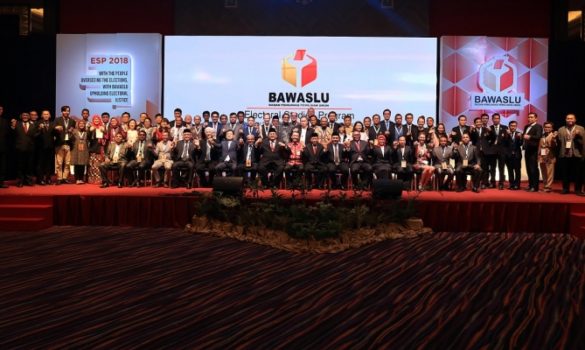 July 23, 2018
On 27 June, AGENDA and IFES coordinated with Bawaslu (Indonesia Election Supervisory Body) to hold polling station visits to the 2018 Pilkada (local election) in five cities for international delegates and representatives as part of Bawaslu's first-ever Election Studies Program. The program aimed to bring together members of election management bodies (EMBs) from…
July 12, 2018
On July 12, AGENDA attended a Public Consultation on International and Regional Advancement and the Protection of Human Rights as well as the Socialization of Election Processes of Indonesia Representatives to the AICHR 2019-2021 hosted by the Ministry of Foreign Affairs in Jakarta.Indonesian representative to AICHR, Dinna Wisnu, in the meeting shared her…
June 27, 2018
From 26-27 June, representatives from AGENDA participated in the 2018 Election Visit Program (EVP) organized by the Indonesian General Election Commission (KPU) in Surabaya, East Java. The program's main objectives were to share knowledge and information on Indonesia's different elections and to observe the regional head elections in East Java. EMBs from six…
April 18, 2018
The Task Force on the Mainstreaming of the Rights of Persons with Disabilities in the ASEAN Community, comprising representatives from the AICHR, SOMSWD and ACWC, convened its 6th meeting on 16 to 17 April 2018 in Jakarta, Indonesia.
More information: https://goo.gl/oPdTX3
…
January 4, 2018
On 20-22 November, AGENDA's partner in Myanmar, Myanmar Independent Living Initiative (MILI), held series of meetings with various election stakeholders in Indonesia. During the three-day visit in Jakarta, MILI met with Bawaslu, DKPP, People's Voter Education Network (JPPR), Indonesian Disabled People Association (PPDI), Center for Election Access of Citizens with Disabilities (PPUA Penca),…
January 4, 2018
On 17 November, AGENDA participated in Bawaslu's FGD on Drafting Guidelines on Oversight Procurement and Distribution of 2018 Regional Head Elections and its Recapitulation Standard in Jakarta. AGENDA reviewed Bawaslu's initial draft guidelines and suggested some inputs to the draft.
January 4, 2018
On 24 October, AGENDA attended the 2017 National Workshop of the Indonesian Blind Association (PERTUNI) in Jakarta. The workshop aimed to discuss the increasing role of the blind people community based on Convention Rights of Persons with Disabilities (CRPD) and Law no. 8 year 2016 on Persons with Disabilities.