June 4, 2012
By: Dipo Djungdjungan Siahaan, IFES
AGENDA is sending its Jakarta's based partners to join the local Cambodian partners to support the monitoring of the upcoming Cambodia's commune election on 3 June 2012. The Jakarta team consists of JPPR,PPCI, PPUA Penca and IFES Indonesia. In Cambodia they will be joining the…
May 29, 2012
By: Dipo Djungdjungan Siahaan, IFES
KPU Jakarta (Jakarta Election Committee) guarantees an accessible election for persons with disabilities in the upcoming Jakarta gubernatorial election. Sumarno, a member of KPU Jakarta, conveyed this message on Tuesday, 22 May 2012 last week, when AGENDA visited KPU Jakarta office to discuss about accessible…
May 4, 2012
By: Yusdiana, PPCI
Cambodian Disabled People Organization held a workshop on March 27 at the Imperial Hotel, Phnom Penh, to review the accessibility of the country's election. In addition to the organization members that hailed from the provinces, the workshop was attended by representatives from the National Election Committee (NEC),…
March 29, 2012
Three Cambodian observers joined AGENDA's fourth election monitoring in Bangka Belitung, February 23, 2012. Ky Sophan, Huy Khy, and Pheng Pharozin from Cambodian Disabled Person's Organisation (CDPO) flew from their country to learn about the election monitoring process. Prior to the activity, they received a briefing about how to conduct the monitoring and…
March 29, 2012
By Riri Rafiani, PPUA Penca
On February 21-22, 2012 AGENDA held its fourth training of volunteers to help with the monitoring of regional election in Bangka Belitung. As in the previous three trainings, 30 volunteers were recruited; half of them were persons with disability. They were recruited through People's Voter…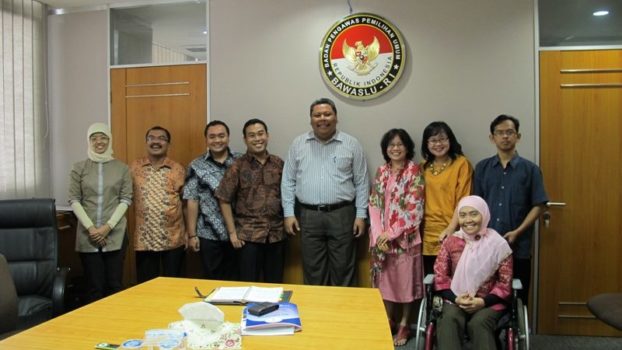 January 4, 2012
By: Riri Rafiani, PPUA Penca
Head of Indonesian Election Monitoring Agency (Bawaslu) Bambang Eko Widodo admitted that election process in the country has not been completely disabled people-friendly. He expressed this statement at an audience with AGENDA team on ugust 11, 2011 at Bawaslu office.
To be…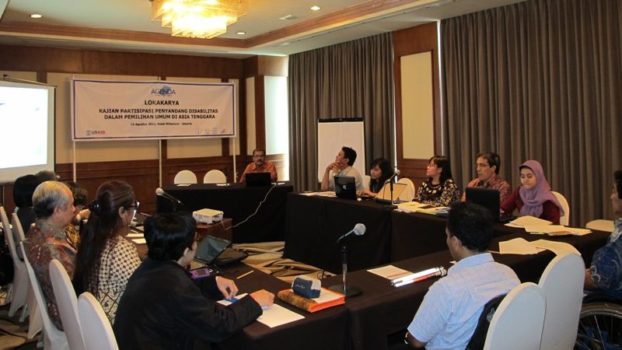 January 4, 2012
By: Riri Rafiani, PPUA Penca
Twenty-four participants from a number of organizations that concerned themselves with election and disability issues gathered at Hotel Millenium, Jakarta, on Monday, August 15, 2011, for a workshop titled Study of Participation of Persons with Disabilities in Elections in South-east Asia. Among the participants were…
January 4, 2012
By: Riri Rafiani, PPUA Penca
Two blindfolded people walked uncertainly toward a voting booth: one swinging a cane and the other assisted by an official. Another blindfolded person just sat quietly as if unsure of what to do. Once at the voting booth, the two blindfolded people had to rack…
January 3, 2012
On October 22, 2011 a regional election for the post of governor was held in Banten Province, including in the South Tangerang regency. This was the second election in the relatively new province since its establishment in 2000. The first was held in 2006.
The day also marked AGENDA's third…