September 18, 2019
On September 17, AGENDA participated in the Election Supervisory Body's (Bawaslu) focus group discussion (FGD) on the "Evaluation of Election Observation Tools" alongside CSOs that work in the monitoring of accessible elections, including the Constitution and Democracy Initiative (KoDE Inisiatif), Independent Committee for Election Oversight (KIPP), People's Voter Education Network (JPPR), Democracy and…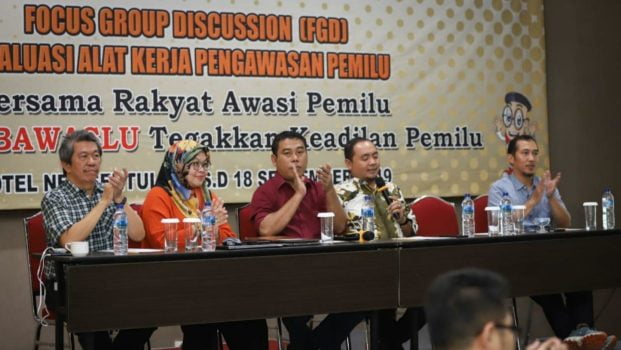 September 18, 2019
On September 17, AGENDA participated in the Election Supervisory Body's (Bawaslu) focus group discussion (FGD) on the "Evaluation of Election Observation Tools" alongside CSOs that work in the monitoring of accessible elections, including the Constitution and Democracy Initiative (KoDE Inisiatif), Independent Committee for Election Oversight (KIPP), People's Voter Education Network (JPPR), Democracy and…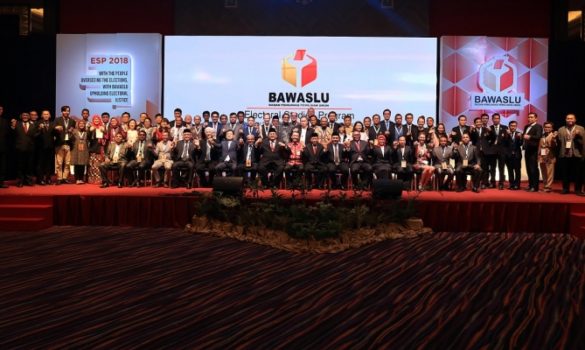 July 23, 2018
On 27 June, AGENDA and IFES coordinated with Bawaslu (Indonesia Election Supervisory Body) to hold polling station visits to the 2018 Pilkada (local election) in five cities for international delegates and representatives as part of Bawaslu's first-ever Election Studies Program. The program aimed to bring together members of election management bodies (EMBs) from…
January 4, 2018
On 27 November, AGENDA participated in Bawaslu's FGD on Collaboration with Election Monitoring Organization in the context of the participatory monitoring and shared its experience in conducting election monitoring and suggested some potential collaborative works that can be done with organizations on election observation to achieve election monitoring goals, such as building a…
January 4, 2018
On 17 November, AGENDA participated in Bawaslu's FGD on Drafting Guidelines on Oversight Procurement and Distribution of 2018 Regional Head Elections and its Recapitulation Standard in Jakarta. AGENDA reviewed Bawaslu's initial draft guidelines and suggested some inputs to the draft.
January 4, 2018
On 24 October, AGENDA attended and provided input in a public consultation, facilitated by Bawaslu, that examined the draft regulation on election observation. Through this forum, Bawaslu sought advice from electoral stakeholders on how to increase domestic and international observers' interest in election observation in the 2019 election and beyond.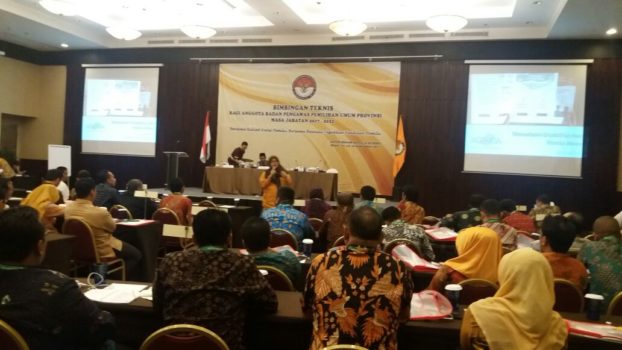 September 28, 2017
The Election Supervisory Board of Indonesia (Badan Pengawas Pemilu Republik Indonesia/Bawaslu RI) inaugurated the newly appointed Provincial Commissioners from 25 provinces (out of 34). On 21 September 2017, AGENDA Program Manager provided training to the new Commissioners on Understanding Disabilities and Accessible Election. It is one of the AGENDA's objective to ensure that…
March 11, 2013
AGENDA partner Center for Electoral Access for Citizens with Disabilities (PPUA Penca) organized a two-day training for the Indonesian National Election Commission (KPU) and Indonesian Election Supervisory Body (BAWASLU). The training was held in Bogor from February 22-23, 2013. Among the 20 participants were three KPU, four BAWASLU commissioners and senior staff from the…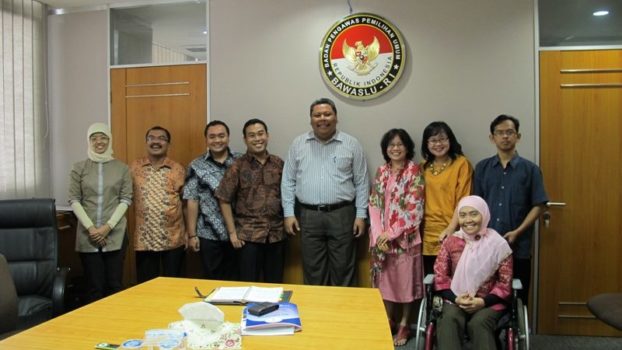 January 4, 2012
By: Riri Rafiani, PPUA Penca
Head of Indonesian Election Monitoring Agency (Bawaslu) Bambang Eko Widodo admitted that election process in the country has not been completely disabled people-friendly. He expressed this statement at an audience with AGENDA team on ugust 11, 2011 at Bawaslu office.
To be…